The group of companies of the trade mark Vanrik is among the leaders of agribusiness in Georgia. The main directions of our activity:

Vanrik Agro Group is the largest producer of fresh blueberries in Georgia and one of the largest producers in Europe. The scientific approach to plant growing, the honed quality system in accordance with ISO 22000, ISO 9001 and the mild subtropical climate of Georgia are a guarantee of obtaining high-quality and environmentally friendly products. 160 hectares of plantations are in the region where nature itself  has created a unique microclimate – here there are air flows from the spurs of the Greater Caucasus and sea breezes. It is the unique microclimate that ensures the ripening of berries for 40-50 days earlier than in Europe. Drip irrigation is carried out by water from mountain rivers. Within a radius of 50 km there are no industrial enterprises and sources of pollution. Thanks to the scrupulous input control of the products, the step-by-step optimal cooling of blueberries (the refrigeration equipment leaves directly on the plantation), shock cooling and careful processing of the berries on the "A & B Packing" (USA) automated line achieve the maximum possible keeping quality and trade presentation. The harvest season is from May 25 to July 15.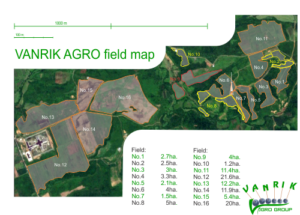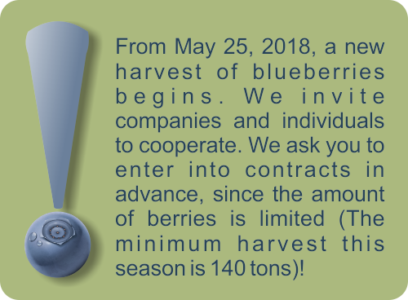 ---

Laboratory for microcloning of plants.

Own microcloning laboratory of seedlings (obtaining genetically identical to the original copy of clones) produces a virus-free planting stock in cassettes or in pots. At the stage of transfer of seedlings  material is tested for viruses and various diseases. Currently, the laboratory cultivates several million seedlings of the following species:

Blueberry – 8 varieties, Blackberry – 4 varieties, Kiwi, Baby Kiwi (Actinidia), Pistachio, Canadian Juneberry, Pavlonia, Opuntia, Walnut, Tea, Potatoes. Individual orders are accepted for the production of crops and varieties not included in the standard assortment.

Being a pioneer and unconditional authority in the cultivation of blueberries in Georgia, having all the necessary technology and equipment, we offer a service for the arrangement of  berry plantations

* on a turn-key basis * with further agroprovision and the purchase of  harvest for processing at our own factory.
---
Production of units for growing plants by aeroponic.
Vanrik Agro Group produces aeroponical installations of its own design and develops software for them. Automatic control of plant operation parameters and computer control system allow obtaining high guaranteed yields.Buyers of aeroponical installations are provided with planting material produced in the Vanrik Agro Group laboratory, as well as balanced nutrient mixtures.

Round-the-clock technical support of clients is carried out. At the request of the customer it is possible to connect the SMART controller of its aeroponic installation to the central server of Vanrik Agro Group for remote monitoring of parameters and provision of practical recommendations.