Vanrik Agro Group company "Stalker" nursery was the first, who successfully took participation in the process of voluntary certification of the planting material conducted by the Scientific-Research Center of Agriculture
As a result of field inspection and laboratory analysis held by specialists of the Scientific-Research Center our nursery has been granted with the Planting Material Quality Certificate issued in accordance with the international standards of certification procedures of planting and multiplication materials. Thus planting material, produced in-vitro at our laboratory for micro cloning plants was assigned to the highest category.
On August 05, 2013 was signed the agreement between Vanrik Ltd, consulting and certification organizations regarding the implementation of international standards ISO 9001:2008 and ISO 22000:2005 in order to gain an internationally recognized certification for quality management and food safety management systems.
The company is oriented on growing /cultivation, processing and sale of fruits and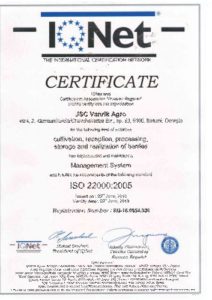 berries. The company aims to export the product to international market.
The development of international standards is implementing in parallel with the preparation of personnel employed in the production process, which in turn have a positive impact on the production of safe food and to establish best practices in this field.
Safe food will plant and sold. Several prerequisite programs are held: building and working environment management procedures, water and energy control procedures; waste management procedures; machinery – equipment management procedures; cleaning procedures, procurement procedures; pests fighting procedures; personal hygiene procedures; inappropriate production management and challenge procedure, Food Security procedure, Bioterrorism, and vigilance. Operational prerequisite programs and HACCP plan will be defined; traceability system is introduced, is implemented the control on inconsistency of the procedure, a combination of control measures will be validated. Permanent improvement of the system will be developed.
All of above mentioned are create company image and increase brand awareness, improve customer's satisfaction and sale of safe production.